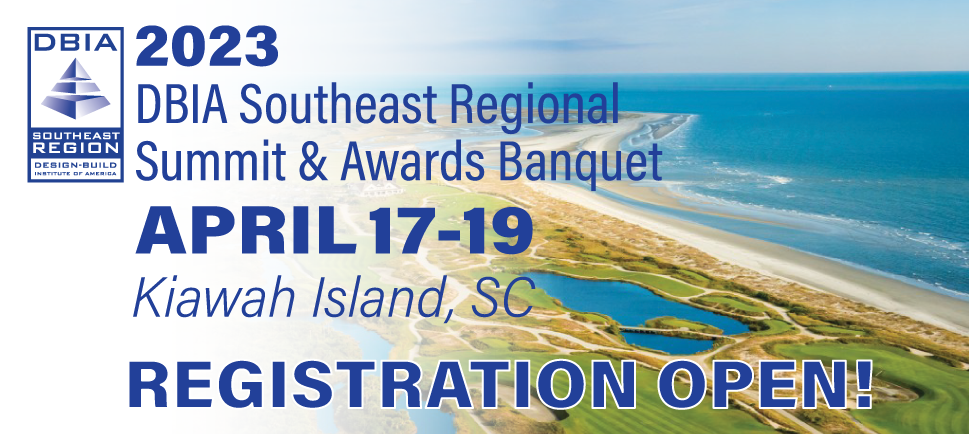 DBIA Southeast Regional Summit
& 23rd Annual Awards Banquet

April 17-19, 2023

Kiawah Island Resort
One Sanctuary Beach Drive
Kiawah Island, SC 29455
ABOUT THE SUMMIT
Gain knowledge and insight into Design-Build Done Right®. We bring together all members of the design-build team to foster collaboration for project success. Conference attendees include contractors, architects, engineers, consultants, public and private owners. All market groups will be represented.
SPONSORSHIPS
Sponsorships are available at a variety of price points to suit any firm interested in supporting the Summit.
ACCOMMODATIONS
Reservations can be made by calling 800.654.2924. Reference group Design Build Institute of America.
Group rates are available for 3 nights before and after the conference dates so you can take full advantage of the opportunity to spend some time at Kiawah.
One bedroom Villa | $225.00/night
Two bedroom Villa | $295.00/night
*resort fee 9% daily and occupancy is 13%
AGENDA
OPENING RECEPTION
Monday, April 17 | 4:00 PM
Join your fellow attendees for an evening wind-down after arriving at Kiawah Island. Network with industry professionals and take in the beauty of the surroundings at the Ocean Club.
EDUCATIONAL SESSIONS
Tuesday, April 18 | 8:00 AM – 3:30 PM
Soak up the knowledge with a full day of educational sessions focused on educating Owners and practitioners alike. Hear how challenges were met and overcome, successes, lessons learned, and more. 
22nd ANNUAL PROJECT AWARDS BANQUET
Tuesday, April 18 | 6:00 PM – 9:00 PM
Join the celebration with an elegant awards banquet at the Osprey Club honoring all the amazing projects completed in our region in the past year. Stick around for the big winner Project of the Year announcement.
EDUCATIONAL SESSIONS
Wednesday, April 19 | 8:00 AM – 12:30 PM
Wrap up the Summit with educational sesssions reflecting the state of the industry, future opportunities, and best practices. Hear how challenges were met and overcome, successes, lessons learned, and more. 
ABOUT KIAWAH GOLF
The biggest names in golf have made their mark on our championship courses—both as designers and pro players putting their skills to the ultimate test during the Ryder Cup, PGA Championship and other top-level tournaments. Year-after-year, the most respected experts place our resort golf courses at the top of every list.
ABOUT KIAWAH
Kiawah Island is ten miles of wide, immaculate, oceanfront beach that invites you to stroll or cycle for hours without interruption. Soothing by day, romantic by night, the beach is complemented by the island's river, meandering lagoons, pristine marshlands and maritime forests. Each sun-washed day ends beneath a star-studded southern sky. Kiawah Island Golf Resort is a destination like no other. Our guests enjoy world-class accommodations, amenities and recreational facilities so you can fully experience the resort lifestyle.
Learn More About Kiawah Island
ABOUT THE AWARDS
DBIA Southeast recognizes exemplary applications of Design-Build Done RightTM that, at a minimum, resulted in highly successful design-build projects achieving best-value while meeting design and construction quality, cost and schedule goals. Winning projects and team members exemplifying design-build best practices will be celebrated publicly through DBIA Southeast's awards programs and external promotion.
To be considered for a design-build award, projects must demonstrate successful application of design-build principles including, but not limited to, interdisciplinary collaboration in the early stages of the project and the acceptance of single-entity risk. The goal of completing projects on-time and on-budget (and with no litigation) is not a criterion for winning an award — it is a minimum standard for all projects submitted. Winning projects are honored for the advanced and innovative application of total integrated project delivery and finding unique solutions for project challenges.